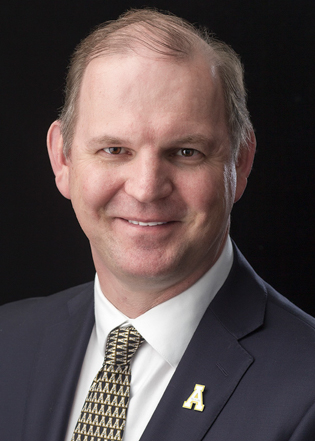 Greetings Faculty and Staff Colleagues:
Thank you for the warm welcome we have enjoyed in our first month in Boone! Your kindness and generous spirit continues to touch my family and me. Indeed the spirit of Ubuntu that permeates the Appalachian community has made our personal and professional transition to the High Country exceedingly seamless. To liberally paraphrase; Mark Twain opined that people go to heaven for the climate and hell for the company. However, here in Boone we have enjoyed both the July climate and company!
In the last month I have enjoyed the opportunity to break bread with many of you. Those conversations and interactions have occurred in many different settings including face-to-face meetings on campus; at the Appalachian Festival; the Energy Summit; in stores in Boone; and at the Watauga County Farmers' Market. In the coming weeks, months and year I relish the opportunity to break bread with many more members of the Appalachian community and to become more fully integrated and contribute to shaping it with you.
The experience of the last month strongly affirms my decision to become the chief academic officer at Appalachian and a member of Chancellor Everts' leadership team. I am understanding at a deeper and more experiential level why the educational experience at Appalachian is so transformative and impactful for our students. In the last month I have thought a great deal about a turn of phrase that might powerfully capture the essence of what Appalachian is about. The Hebrew phrase "tikkun olam" meaning to repair the world or make the world a better place resonates with me because it is a common thread in the stories that have enriched me in the last month and that constitute our institutional DNA.
Stan Aeschleman deserves significant praise for his outstanding contributions as interim provost to Appalachian. It is in very large measure because of Stan that my transition to Appalachian has been so deliberate and successful. And that is important for our success. On a personal level Stan's quiet humility, wry smile, and reflective mood strongly resonate with my leadership style. He is indeed a product of western Illinois and the Midwest.
Appalachian remains a strong institution by many measures including retention and graduation rates. It too is healthy in terms of number of new student applications and the size of the incoming class. This is not true of many institutions nationally. I have heard on more than one occasion that the reputation of Appalachian increases the further one gets from Boone. This is a testament to the caliber of you our faculty and the quality of our staff. Thank you!
Together we can build on these strengths in the months and year ahead to further strengthen the academic enterprise at Appalachian. Initiatives include - but are not limited to - attention to our strategic plan; hiring 3 new Deans to fill positions of those retiring or currently interim; and engaging the campus in discussions to shape our campus master plan. A critical aspect of these campus discussions is shared governance as it is pivotal to their success because our work is a collective endeavor.
I look forward to sharing my ideas for moving forward with tweaking and implementing our strategic plan at the Faculty and Staff Meeting on August 28, 2015. This plan is shaped by my many conversations with members of the Appalachian community including faculty, staff, students, and external stakeholders. The strategic plan provides us with a roadmap for allocation of resources to advance our initiatives and messaging for Chancellor Everts. As Nelson Mandela reminds us, "vision without action is only dreaming, action without vision is only passing time, vision with action can change the world." Appalachian is changing the world. And we can deepen and strengthen that impact through the transformational education experiences that are the hallmark of our graduates.
Thank you for your forbearance as I get to know your names and connect with you and understand your contributions to Appalachian. I also thank you for your patience in understanding my accent given that I often place emPHAsis on different sylLAbles in my spoken language - to paraphrase another popular quote. I am delighted to join the Appalachian community and Chancellor Everts' leadership team. Thank you for your warm welcome!
Best wishes,
Dr. Darrell Kruger
Provost and Executive Vice Chancellor