First Row: Jane Rex, Cindy Barr, Randy Ledford (VP Instruction), Dennis Seagle (Director Enrollment Management) Second Row: Mark Poarch (President), Dr. Kruger, Dr. Ginn
In an ongoing effort to strengthen our relationship with Caldwell Community College and Technical Institute, one of our top transfer community colleges, representatives from Appalachian were treated to a luncheon meeting on the CCC&TI campus in Hudson to explore initiatives that would provide a seamless pathway between our institutions and to improve transfer student success. These meetings will be held on a monthly basis alternating campus locations.
Co-admissions is an initiative that is being further explored. Co-admission programs provide a seamless path from the community college to a partner college or university. This collaboration with CCC&TI would allow students enrolling at either campus (Watauga or Hudson) to apply for admissions to Appalachian with a guarantee of acceptance based on successful completion of an associate degree. Such an agreement would serve as an incentive to CCC&TI students to stay on track and complete an associate degree in a timely manner.
As Appalachian continues to collaborate with our community college partners, we are mindful of the UNC Strategic Plan and the goals that serve to improve student outcomes and expand access to affordable high-quality degrees.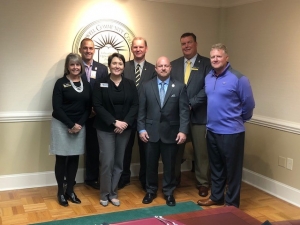 Tags: