How do I view my class schedule?
To view your schedule click on the Student Tab in AppalNET Self Service, then Registration, then click the link to Student Detail Schedule. Remember to select the correct term!

How do I read my schedule?
Associated Term: Should be Fall 2020.
Status: Will show if registered or waitlisted.
Time: Shows the meeting times. For asynchronous online courses with no scheduled meeting pattern, this will say TBA.
Days: M-Monday, T-Tuesday, W-Wednesday, R-Thursday, F-Friday
Where: This is the assigned classroom(s). WEB WEB means the course is online and has no classroom.
Date Range: Shows the term of the course. Note that some classes are only half semester courses.
Schedule Type: This is one of the main things to check here. See the list of schedule types. This course is completely online. Hybrid courses will be denoted here.
Note for Section Above: The note can contain useful information about the meeting pattern for your course. This is particularly true for online or hybrid courses.
How can I tell if I have a time conflict on my class schedule?
Review the Student Schedule by Day and Time (above the Detailed schedule in the Student Registration Tab) and be sure you are looking at the correct calendar dates.
For Fall 2020, it should indicate August 17th - Dec 9th. If those dates are not indicated, click "Next Week" or "Previous Week" until your classes are visible.
Scroll to the bottom of the page and see if any Time Conflicts are listed.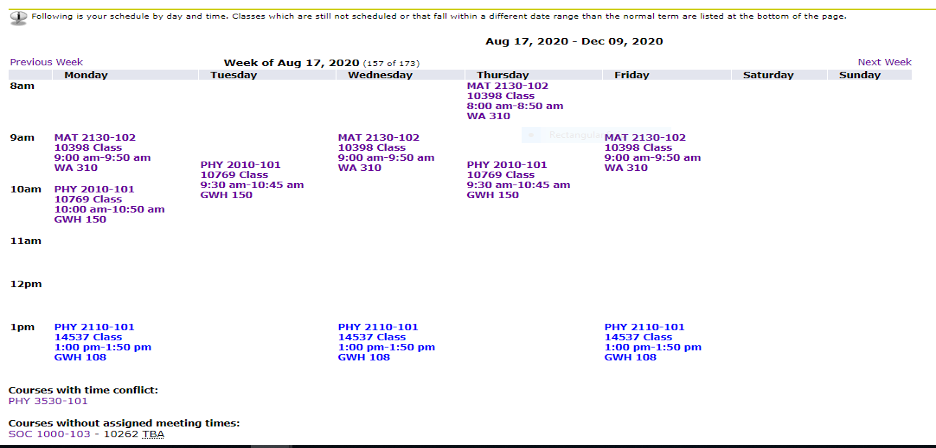 I have a Time Conflict. What should I do?
If it is in CHE then it is ok. Chemistry labs happen in two different rooms so show up as a conflict.
If it is two different courses,

Use the Registration Class Search to determine if you can change one of your classes to a different section/days/time.
Review your DegreeWorks and Four Year Guides to determine if one is more important than the other in terms of progress to graduation.
Contact your Academic Advisor
How do I learn who my advisor is?
Check DegreeWorks where the Advisor may be listed below your Name, ID, Class. If there is no Advisor listed, please contact your college or department for assistance.
I want to adjust my schedule. Can I wait-list for a different section of a class that I am already enrolled in?
Yes, you can drop yourself out of the class that you are currently enrolled in and add yourself to an open seat or to a wait-listed seat if there is a seat available in that course.
You can NOT remain enrolled in one section of a course and wait-list for another section.
You may not waitlist in more than one section of a course.
Please be cautious when you are adjusting your schedule:

Understand the difference between an open seat and an open wait-list seat.
Read the notes for each section as these may address the when the course will meet.
Tags: